Water Tanks | Plastic Water Tanks | Water Storage Containers | Waste Water Tanks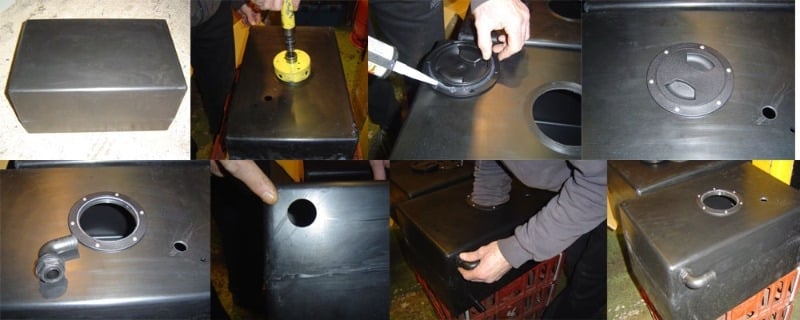 SIMPLE DIY WATER TANK ASSEMBLY WITH NUT IN FITTINGS
We supply a large range of water tanks for window cleaning, car valeting, and outdoor mobile catering trailers. Our fresh water tanks and waste water tanks come in many different sizes so your sure to find one here to suit your application.
Our plastic water tanks are ideal for the industrial cleaning trade using pressure washers.
If your a window cleaner, or mobile car valeter needing a secure water tank strapped on your van or a caterer needing water storage for your catering trailer, here at Water Tank Warehouse weve a fantastic range of tanks to suit.
Simply choose your water tank size and tank fittings and order online TODAY for delivery to your door.
The polyethylene water tanks we manufacture and supply are designed for simple DIY installation giving you the greater option of putting your nut in fittings and access hatch exactly where you require making it simple when installing the tank upright / vertical or flat / horizontal, thus eliminating the problems of installing a ready made water tank where awkward to access fittings or protuding parts can hinder.
All our tanks have full desciption of length, width, and depth, and the volume of what amount of liquid the tank will hold in litres so choosing a water tank could never be simpler.
Our plastic water tanks are made from high quality food grade polyethlene MDPE and designed for the safe, reliable storage of drinking water, grey or black waste water and industrial chemicals (not designed for petrol or parrafin fuel storage) and are manufactured to meet food and water collection requirements. We only use the highest grades of virgin polymers to produce our tanks.
The water tanks are rotomoulded to be seemless, one piece, watertight vessels and are NOT welded from sheet plastic with joins that will crack prematurely. Our water storage tanks will not leak, crack, split, rust or corrode.
High quality robust water tanks designed for commercial use.
Being moulded and having no joins ensures your tank has a long and durable life.
We manufacture our black water tanks so no UV light can enter the tank, this prevents the growth of algae and organisms and ensures your fresh water inside tank will stay fresh longer.
We also produce blue and white tanks therefore if you need to separate fresh water tanks from chemical storage tanks there are alternative colour options to choose from.
It is important to use food quality hoses as other types of flexible hose create aftertaste either medical or plastic (blue hose syndrome) so please browse our water tank accessories for nut in fittings, hoses, and water pumps as we only supply those connections fit for purpose.
Tanks are manufactured as suitable for potable water usage as standard, they are therefore also suitable for transport of other liquids and certain chemicals.
For usage with chemicals you will need to satisfy yourself of the products suitability before purchase.
Manufactured from high grade UV stabilised MDPE to provide a tank that is impact resistant, durable, tough and long lasting.
One piece moulded product so no seams to split and being produced from high grade polymer they are suitable for potable water.
You are able to customise the tanks with your own nut in fittings, taps, valves etc.
We carry a wide range of connectors and fittings for you to install connections where you want for whatever your intended use of the tank is.
Standard stock product colour is Black for potable water, we can also produce the tanks for potable water in Natural (translucent) and Blue but these will incur an extended lead time. Please email us for availability.
Proudly MADE in BRITAIN in our Warwickshire factory.
Potable Water- WRAS
This tank is manufactured by ourselves using high quality MDPE and is supplied "suitable for potable water usage". We can assure you that is has been moulded with a polymer resin that has a current and valid WRAS approval. WRAS approved polymers are polymers that have been tested to hold liquids and foods fit for human consumption. The polymers will not leak colour or chemical into the water. We do not imply or suggest that the product has been directly WRAS approved only that the product has been manufactured using a polymer material with WRAS approval.
A written certificate of assurance is available on request.